Nashville Hot Chicken franchise will give you the option to open a stand-alone location, a food truck, or a ghost kitchen model.  Our business model is simple and easy to start. COVID – PROOF
NASHVILLE HOT CHICKEN FRANCHISE OPPORTUNITY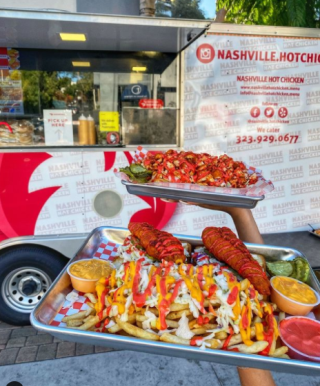 In 1972, Popeye's unveiled a brand-new chicken sandwich that took the nation by storm. However, they're not the first chicken concept to serve sandwiches, and they're certainly not the best at making them. Prior to the launch of Nashville Hot Chicken both of it's founders traveled across the USA to over 900 + fast-food sandwich restaurants, particularly places that served chicken. They carefully observed, while taking notes which all paid off In 2018.
When the two brothers, both restaurateurs had the idea to modify their existing pizzeria by adding a ghost kitchen to serve what is now known as Nashville Hot Chicken. In just under two years, this hot chicken-based concept garnered so much success that they opened a second, stand-along location as a food truck. Nashville Hot Chicken also known as Nashville Hot Chicken is now a franchise opportunity, ready for expansion through motivated individuals looking to enter the fast-casual restaurant industry.
Three Business Models to Choose From
Store-front Model (Brick & Mortar) – Franchise fee of $25,000 and a Total Investment of $123,900 – $241,000
Mobile Model (Food Truck) – Franchise fee of $15,000 and a Total Investment of $49,000 – $70,000
Digital Model (Ghost Kitchen) – Franchise fee of $20,000 – $40,000
The NHC Franchise Concept
Simple but Substantial
There are many secrets that will be taught. but the two obvious secrets to Nashville Hot Chicken's success is the simplicity of their menu and business model. Both brothers, extensively refined their recipes until they perfected their version of Nashville style chicken. The menu includes hot chicken sliders, a tender plate with fries and a Texas-style toast topped with juicy chicken tenders, Nashville Hot Fries consisting of a combination of chopped tenders and fries with coleslaw and pickles, or Crazy Fries (Seasoned fries, coleslaw, drizzle of their Pink Sauce and Cheese. All their chicken is 100% halal! They also have Nashville style Shrimp sandwiches, which separates them from the usual. Appetizers include jalapeno poppers and popcorn shrimp. The reason why customers return for more chicken is because of their proprietary pink sauce, utilized in all menu items.
Why Nashville Hot Chicken?
Signature Recipes
Growing Industry
Competitive Franchise Fees
Fixed Royalty
Protected Territories
COVID-19 Proof
Ground Level Opportunity
Training & Support
Franchisees don't need previous experience working in a restaurant, we can train you on how to operate a Nashville Hot Chicken! Our comprehensive training program is comprised of 44 hours of classroom and hands-on training and will prepare you to operate all facets of the franchise, including food prep, serving customers, staffing your crew, managing all administrative tasks, and how to efficiently market your location to boost business. In addition to this, our franchise support team will guide you through the development of your Nashville hot Chicken location to ensure long-term success!
Support
Support team will provide you with all the assistance with site selection and buildout
Receive ongoing assistance with daily operations, marketing, advertising, menu development, and staffing.
We help connect you with vendors for equipment, services, supplies, and ingredients.
Gain access to a comprehensive library of print and media advertisements.
Co-Founder and CEO, Tigran Melkonyan, discusses the Nashville Hot Chicken Franchise Concept
Nashville Hot Chicken Franchise